"Remember that the person who has spent the day driving or working on the vehicle does not wash up after supper" - 'OVERLAND' by Peter Fraenkel (published in 1975)
Latest updates
BigSky Four-Wheel drive Action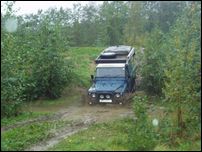 Our route South is going to take us across rough terrain, so when Steve & Michelle (see right) invited us to Norfolk for the weekend, we leapt at the opportunity to test Maggie's off-road capabilities.
Overlanding History
The idea of travelling overland, either as a way of transport, or, as in recent years, a way of travelling the world has been around for decades. Our overland adventure takes a far more modern approach via the use of the internet, mobile telephones and GPS navigation.
House News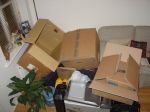 The house has been rented out! When we heard that we had a tenant we realized we only had a few weeks in which to pack the house. Boxes, equipment and 'does-not-have-a-place' items have ended up in the lounge, much to Debbie's dismay.
Africa Wanderer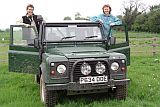 One of the highlights of overland travel is the people you meet. One couple we have been privileged to meet is Steve & Michelle. They are a dynamic couple intending on leaving in January 2005 for Africa. We spent a weekend with them discussing and planning our overland trips.
Quick Links...

Steve & Michelle - Africa Wanderer